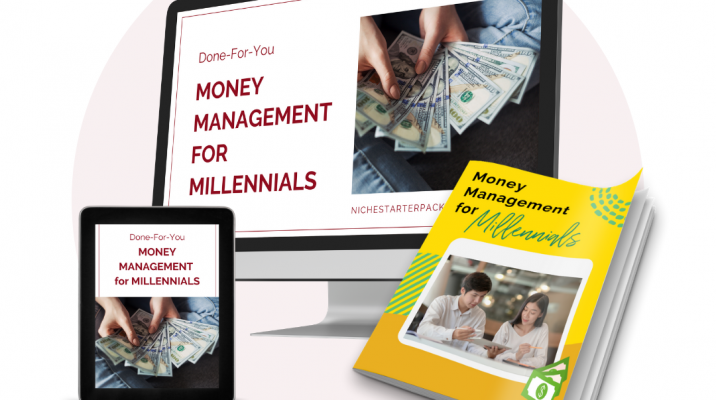 HOT PLR Content in Business Niche...Just Tweak, Brand & Use on Your Site
"Millenials would Want To manage their money properly - Help Them Do This By sharing Money Management for Millennials PLR Bundle!"
It's Easy If You Use This Business PLR
All of us wants to manage our money properly, some and a lot of millennials nowadays, are having a hard time doing that. Help them by sharing this great money management eCourse bundle!
This PLR content bundle will provide your millennial audience the information on how to manage their money properly!
Use this high-quality PLR content as an opt-in or on your blogs...and that's only the beginning of what you can do with it.
You'll get high-quality PLR content that you can use on your website or blog to appeal to different niches such as business development, marketing, or a personal development blog.
DFY Money Management for Millennials PLR Bundle
Get It All For $37!
Section 1 – eBook Template
27-page eBook, 5102 words, "Money Management For Millennials"
Use the eBook template that is provided and put it for sale on your site to earn profit or use it on your site to get traffic. You can also take bits and pieces out of it and add it to your social media platforms.
Even though this is formatted into an eBook template that doesn't mean it has to stay that way. You can use it for whatever you'd like to.
Check out what you'll get in the eBook template...
6 sections that talk about the following:
Money Challenges Millennials Face
Create a Budget the Easy Way
Use Automation and Technology
Simple Savings and Investing Tips
Money Mistakes to Avoid
To Sum Up
The eBook template is compiled of the PLR articles below. You'll find them formatted with headings, subheadings and images. This will save you time and let's you repurpose the content quickly and easily.
So this is a great way to buy a PLR ebook that you can put to use right away.
You'll also get a Canva eCover template with this PLR pack.
This makes it much eaiser to use your brand colors, change images that you want to and add your own title to it when you use the eBook template provided.
Section 2 – 10 Day eCourse
You're going to get a 10 day eCourse for you to add value to your business. You can use it as a free eCourse and add affiliate links to different coursee they can purchase or create your own product and link to that.
Or you could use this eCourse as a paid product.
And the great things is that this is a HOT topic that has tons of people interested in.
10-Day ECourse Debt Management for Millennials

Day 1: How to get your debts organized
Day 2: How to set your budget while you're in debt
Day 3: Which bill paydown method is right for you?
Day 4: Should I refinance my debt?
Day 5: Student loan forgiveness - does it exist?
Day 6: Paying your mortgage off fast
Day 7: Paying down your car loan
Day 8: Debt management tools to manage your finances
Day 9: How to find extra cash for debt payoff
Day 10: Where to get professional help with your debt problems
Section 3 – Keyword Research Service Done For You
You'll also get keyword research service done for you. I've come up with all related to the PLR articles on finances and debt. You'll find some of these are what people like to call low-hanging fruit keywords while others have more searches.
These are all high-targeted keywords and I've used a very popular keyword search software to get them. They all have the potential to easily get on the first page of search engines.
Search engine optimizing is important, so get a head start with this list.
BONUS: Section 4 – Royalty Free Images

Images are expensive to purchase, so I've found royalty free images that you can use with the articles or inside the report.
These came from Pixabay and you're able to use them in your products and on your blog without attributions.
As you can see there is a lot of reasons to buy the PLR content in this package. There is a wide variety of high quality PLR products including a niche plr ebook, eBook template and even keyword research service done for you.
DFY Money Management for Millennials Bundle
Get It All For $37!
After you purchase this bundle – you will get to immediately download all of your content!
All PLR Products that you purchase from me are non-refundable.
PLR Rights Terms:
Don't pass on PLR rights to anyone, so your customers only get personal use rights.
Do not put my name on it.
Please note – this is PLR that I have bought a special license to sell. I have added a lot of extra to the package to make it even better and more useful for you. But rest assured It is high-quality content. I provide it because I want to make sure my customers get the opportunity to purchase what they need when they need it. Make sure you don't own this already. I will always let you know if a pack is under special license or not.
Wanna Share on Pinterest? Below is a PIN Image You Can Use:
GET MY DAILY PLR DEALS
(PLUS TIPS, TRICKS & TECHNIQUES TO USE PLR)
Tags: bonus royalty free images, Business PLR, Canva template, ebook template, keyword research, plr report
Business PLR, Done-For-You Categories, Done-For-You Report & Blog Posts BundlePosted in 0 comments