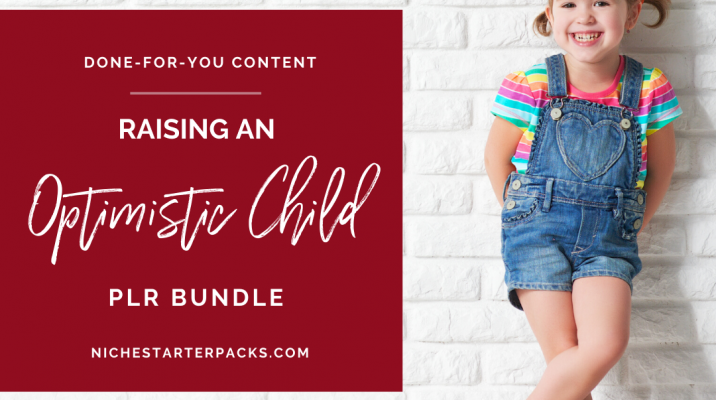 HOT PLR Content in Parenting Niche...Just Tweak, Brand & Use on Your Site
"People Want To Raise Children That Are Optimistic"
It's Easy If You Use This Parenting PLR
Raising children to become successful, happy adults can feel like a challenge at times but it is not impossible. There are many things you can do that will direct the situations faced in daily life towards a positive learning experience.
This PLR content bundle can help your audience understand that as parents, it is important to be role models. It has topics including how to change your child's explanatory style and mistakes parents make when raising children. This will give them actionable ways on how to improve their parenting style.
Use this high-quality PLR content as an opt-in or on your blogs...and that's only the beginning of what you can do with it.
You'll get high-quality PLR content that you can use on your website or blog to appeal to different niches such as a personal development, mom blog, health and wellness or a lifestyle blog.
Get It All For

$37

$10 - FOR A LIMITED TIME!
DFY Raising an Optimistic Child PLR Bundle
Get It All For

$37

$10 - FOR A LIMITED TIME!
Section 1 – eBook Template
22-page eBook, 5,007 words, "Raising an Optimistic Child"
Use the eBook template that is provided and put it for sale on your site to earn profit or use it on your site to get traffic. You can also take bits and pieces out of it and add it to your social media platforms.
Even though this is formated into an eBook template that doesn't mean it has to stay that way. You can use it for whatever you'd like to.
Check out what you'll get in the eBook template...
6 sections that talk about the following:
The Definition of an Optimistic Child
Is Optimism Genetic?
The Future for an Optimistic Versus a Pessimistic Child
The Importance of Being a Role Model
Mistakes Parents Make When Raising Pessimistic Children
Things You Can Do to Raise an Optimistic Child
The eBook template is compiled of the PLR articles below. You'll find them formatted with headings, subheadings and images. This will save you time and let's you repurpose the content quickly and easily.
So this is a great way to buy a PLR ebook that you can put to use right away.
You'll also get a Canva eCover template with this PLR pack.
This makes it much eaiser to use your brand colors, change images that you want to and add your own title to it when you use the eBook template provided.
Section 2 – 10-Day eCourse
You're going to get a 10 day eCourse that will add value to your report. When people opt-in to the report use this course as either a free eCourse or a paid one. This is a HOT topic that has tons of people interested in.
Annuities eCourse:
Helping Your Child Stay Optimistic in the Face of Illness
Helping Your Child Deal Optimistically with Disability
Helping a child deal with stress optimistically
Helping your child be more optimistic despite poor grades
How to help your child through a friend breakup
Helping your child deal with relationship breakups positively
Helping your child through divorce
Helping your child deal with a bully optimistically
Helping Your Child Accept a New Sibling
Helping your child when moving to a new house
The PLR eCourse can be schedule on your blog post, made into an email autoresponder series or shared on your social media channels.
I'm not done yet…
Section 3 – Keyword Research Service Done For You
You'll also get keyword research service done for you. I've come up with long tail keywords all related to the PLR articles on raising an optimistic child. You'll find some of these are what people like to call low-hanging fruit keywords while others have more searches.
These are all high-targeted keywords and I've used a very popular keyword search software to get them. They all have the potential to easily get on the first page of search engines.
Search engine optimizing is important, so get a head start with this list.
BONUS: Section 4 – Royalty Free Images

Images are expensive to purchase, so I've found royalty free images that you can use with the articles or inside the report.
These came from Pixabay and you're able to use them in your products and on your blog without attributions.
As you can see there is a lot of reasons to buy the plr content in this package. There is a wide variety of high quality PLR products including a niche PLR ebook, eBook template and even keyword research service done for you.
DFY Raising an Optimistic Child PLR Bundle
Get It All For

$37

$10 - FOR A LIMITED TIME!
After you purchase this bundle – you will get to immediately download all of your content!
All PLR Products that you purchase from me are non-refundable.
PLR Rights Terms:
Don't pass on PLR rights to anyone, so your customers only get personal use rights.
Do not put my name on it.
Please note – this is PLR that I have bought a special license to sell. I have added a lot of extra to the package to make it even better and more useful for you. But rest assured It is high-quality content. I provide it because I want to make sure my customers get the opportunity to purchase what they need when they need it. Make sure you don't own this already. I will always let you know if a pack is under special license or not.
Wanna Share on Pinterest? Below is a PIN Image You Can Use:
GET MY DAILY PLR DEALS
(PLUS TIPS, TRICKS & TECHNIQUES TO USE PLR)
Tags: bonus royalty free images, Canva template, ebook template, keyword research, PLR eCourse, plr report
Done-For-You Categories, Done-For-You Report & eCourse Bundle, Home & Garden PLRPosted in 0 comments