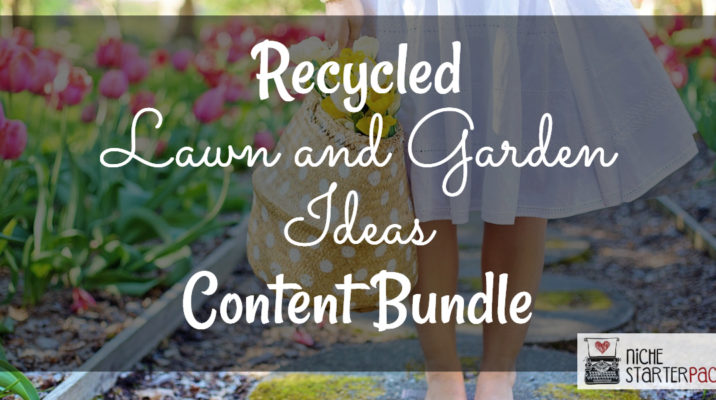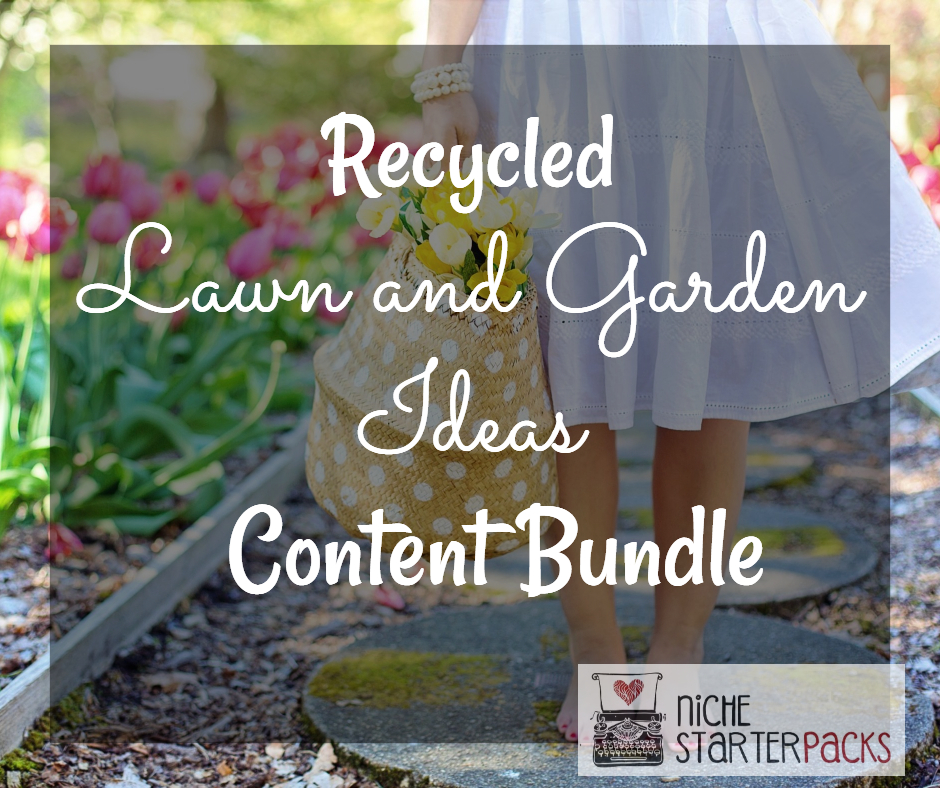 In this Recycled Lawn and Garden Ideas Content Bundle – report, ecourse, keywords, and royalty free images, you'll be able to give your audience more information about garden ideas.
You can now learn how to grow and how to have the best garden by only using recycled materials.
This bundle will give you some ideas on having the best garden setup in your own yard.
You will contain some knowledge on how to take care and maintain your gardens.
We will also be talking about how to setup the garden of your choice together and ways on how to maintain a garden by using recycled materials.
Giving them ideas about making and maintaining and common mistakes of setting up a garden.
The Recycled Lawn and Garden Ideas Content Bundle will give you garden ideas that fit every budget, style, personality and need.
Done-For-You Recycled Lawn & Garden Report & eCourse Content Bundle (Report, Ecourse, Keywords and Royalty Free Images)
– Get It All For $37!

 Section 1 – Recycled Lawn and Garden Decorations
You'll get a 22-Page report all about Lawn and Garden Ideas. This is a great opt-in because it talks about great things these Lawn and Garden Ideas can do.
Use this report to grow your subscriber list.
Here's what you'll get in the report: Recycled Lawn and Garden Decorations
Report Section:
Pallet Garden
Bucket Planters
Cinder Block Raised Garden Bed
Bowling Ball Art
Garden Hose Outdoor Rug
Glass Jar Lanterns
Bird Feeders
Bird Bath
Soda Bottle Elevated Planters
Recycled Fence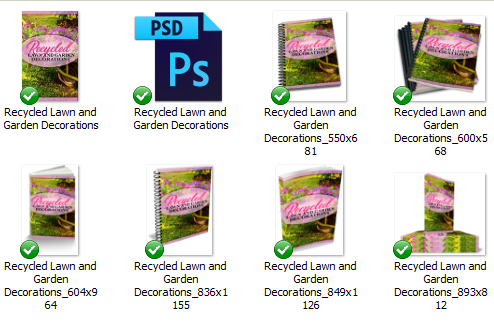 But this isn't all you'll get….
 Section 2 – Ecourse
This section is where you're going to follow up with everyone who signed up for the opt-in report.  You'll be able to provide them a 10-Day eCourse on ways that they can budget and save money.
Lawn and Garden eCourse Topic Titles:
Email Day 1 – Save more water – three xeriscape tips (335 words)
Email Day 2 – Three ways to make your back yard more inviting (398 words)
Email Day 3 – How to attract more birds to your garden (385 words)
Email Day 4 – Tips for creating a butterfly-friendly yard (376 words)
Email Day 5 – Fun ideas for collecting rainwater (418 words)
Email Day 6 – Reasons to get rid of your lawn (391 words)
Email Day 7 – Five simple ideas to spruce up your landscaping (379 words)
Email Day 8 – Best materials for outdoor furniture (353 words)
Email Day 9 – Budget-friendly garden ideas (368 words)
Email Day 10 – Seven tips to maximize your back yard (490 words)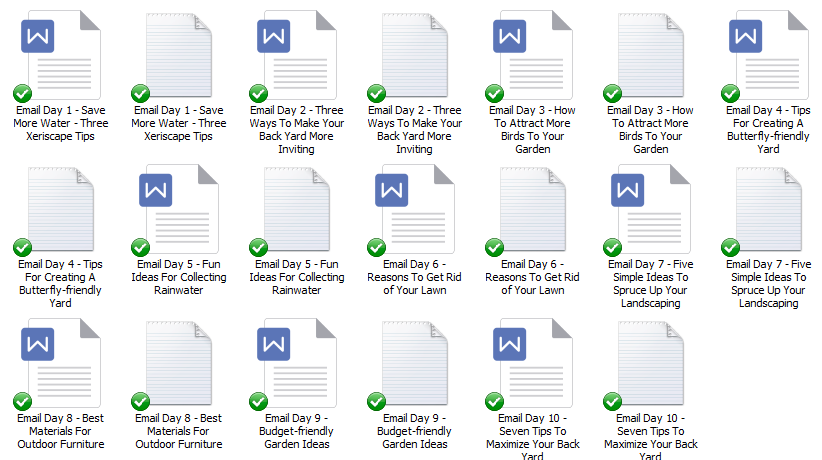 Section 3 – Keyword Research
I've come up with 200 long tail keywords all related to garden and lawn ideas. You'll find some of these are what people like to call low-hanging fruit keywords while others have more searches.
But these are all high-targeted keywords that have the potential to easily get on the first page of search engines with. Search engine optimizing is important, so get a head start on this list.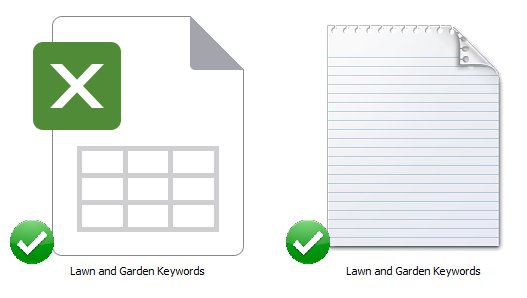 PLUS BONUS – Royalty Free Images
Images are expensive to purchase, so I've found royalty free images that you can use for the articles or inside the report.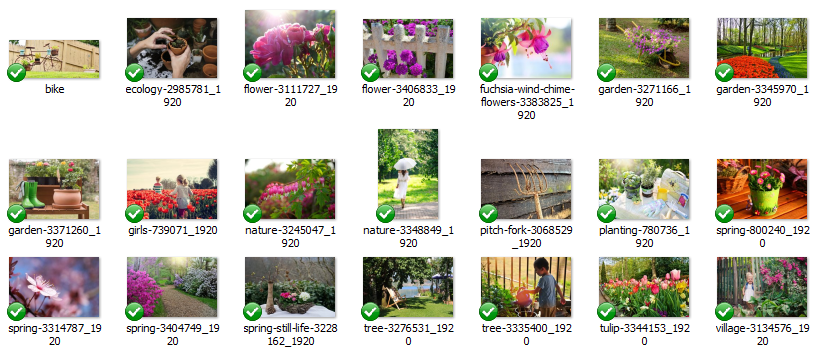 Done-For-You Recycled Lawn & Garden Report & eCourse Content Bundle (Report, Ecourse, Keywords and Royalty Free Images)
– Get It All For $37!

All PLR Products that you purchase from me are non-refundable.
PLR Rights Terms:
Don't pass on PLR rights to anyone, so your customers only get personal use rights.
Do not put my name on it.
Please note – this is PLR that I have bought a special license to sell. But rest assured It is high-quality content. I provide it because I want to make sure my customers get the opportunity to purchase what they need, when they need it. Make sure you don't own this already. I will always let you know if a pack is under special license or not.
GET MY DAILY PLR DEALS
(PLUS TIPS, TRICKS & TECHNIQUES TO USE PLR)
Tags: PLR Bundle, PLR eCourse, plr report
Done-For-You Categories, Home & Garden PLRPosted in 0 comments