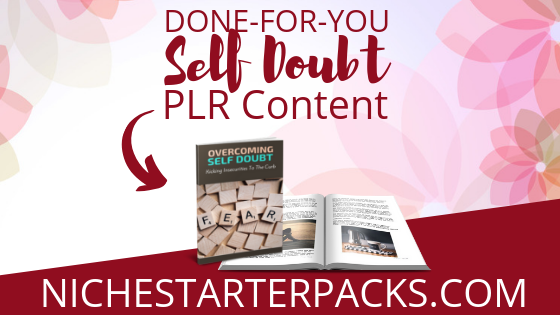 Self-Improvement PLR - High-Quality Done-For-You Personal Development Content..Just Tweak, Brand & Use on Your Site
Self Improvement PLR - Build Your First course with This Simple Done-For-You eCourse On Self Doubt
You can include Self improvement PLR content can be on most sites because it is all about personal development and mindset and most people are facing challenges and so they are seeking answers.
This PLR content is about Overcoming Self Doubt. We all face it and when we do having somewhere to go like a trusted site where they've got to know you and you've become their trusted friend.
By using this done-for-you content you'll be able to have a positive impact on your audience.
The best part of this content is the fact it really can work with any site whether it is a specific lifestyle diet like keto or clean eating, a business site, a mom blog, a lifestyle blog, parenting, sports or financial - you can use this Self Improvement PLR.
Using this high-quality PLR content on your blogs is only the beginning of what you can do with it. Overcoming Self Doubt is a topic that people are looking to learn more about because when you've got self doubt it can stop you from achieving your goals.
You can use this Self-Improvement PLR content on your website or blog to appeal to different niches such as a mom blog, health and wellness or a lifestyle blog.
Self-Improvement PLR - (eBook Template, Keyword Research Service, DFY eCourse & BONUS Royalty Free Images)
All of This PLR Content For Only $37
Section 1 – eBook Template
26-page eBook, 5,352 words, "Overcoming Self-Doubt: Kicking Insecurity To The Curb"
Use the eBook template that is provided and put it for sale on your site to earn profit or use it on your site to get traffic. You can also take bits and pieces out of it and add it to your social media platforms.
Even though this is formated into an eBook template that doesn't mean it has to stay that way. You can use it for whatever you'd like to
Check out what you'll get in the eBook template...
6 sections that talk about the following:
What Is Self-Doubt?
How to Identify Where Your Self-Doubt Lies
Reasons to Believe in Yourself
How to Overcome Negative Thoughts
Strategies for Dealing with Self-Doubt
What to Do Right Now
The eBook template is compiled of the PLR articles below. You'll find them formatted with headings, subheadings and images. This will save you time and let's you repurpose the content quickly and easily.
So this is a great way to buy a plr ebook that you can put to use right away.
You'll also get a Canva eCover template with this PLR pack.
This makes it much eaiser to use your brand colors, change images that you want to and add your own title to it when you use the eBook template provided.
Section 2 – 10 Day Done-For-You eCourse
You're going to get a 10 Day Done-For-You eCourse for you to add value for your audience because you can add it to your blog in a series, use it as an opt-in to turn readers into subscribers or put it up for sale on your site.
You can leave it exactly as it is or you can include video.
This 10 Day Done-For-You eCourse has tons of possibilities of what you can do with it. You can compile the eCourse into a report or post them on your social media platforms like Facebook and LinkedIn.
Here's the Overcoming Self Doubt eCourse Topics:

Day 1: Increase Self Belief
Day 2: Overcoming Imposter Syndrome
Day 3: Nix Negative Thoughts This Way
Day 4: Can You Deal With Feedback?
Day 5: How To Deal With Worries With Less Stress
Day 6: Remove Toxic People From Your Life
Day 7: Have Self-Doubt and Need Motivation
Day 8: Positive Ways to Deal With Failure
Day 9: How To Forgive Yourself
Day 10: Do You Need Professional Help?
The done-for-you ecourse can be schedule on your blog post or made into an email autoresponder series.
I'm not done yet…
Section 3 – Keyword Research Service Done For You
You'll also get keyword research service done for you. I've come up with 105 long tail keywords all related to the PLR content on this self-improvement PLR topic. You'll find some of these are what people like to call low-hanging fruit keywords while others have more searches.
These are all high-targeted keywords and I've used a very popular keyword search software to get them. They all have the potential to easily get on the first page of search engines.
Search engine optimizing is important, so get a head start with this list.
BONUS: Section 4 – Royalty Free Images

Images are expensive to purchase, so I've found royalty free images that you can use with the articles or inside the report.
These came from Pixabay and you're able to use them in your products and on your blog without attributions.
As you can see there is a lot of reasons to buy the plr content in this package. There is a wide variety of high quality PLR products including a niche plr ebook, eBook template and even keyword research service done for you.
Self-Improvement PLR - (eBook Template, Keyword Research Service, DFY eCourse & BONUS Royalty Free Images)
All of This PLR Content For Only $37
After you purchase this bundle – you will get to immediately download all of your content!
All PLR Products that you purchase from me are non-refundable.
PLR Rights Terms:
Don't pass on PLR rights to anyone, so your customers only get personal use rights.
Do not put my name on it.
Please note – this is PLR that I have bought a special license to sell. I have added a lot of extra to the package to make it even better and more useful for you. But rest assured It is high-quality content. I provide it because I want to make sure my customers get the opportunity to purchase what they need when they need it. Make sure you don't own this already. I will always let you know if a pack is under special license or not.
Wanna Share on Pinterest? Below is a PIN Image You Can Use
GET MY DAILY PLR DEALS
(PLUS TIPS, TRICKS & TECHNIQUES TO USE PLR)
Tags: bonus royalty free images, Canva template, DFY eCourse, ebook template, keyword research service, PLR Content, PLR eBook
Done-For-You Categories, Personal Development PLRPosted in 0 comments