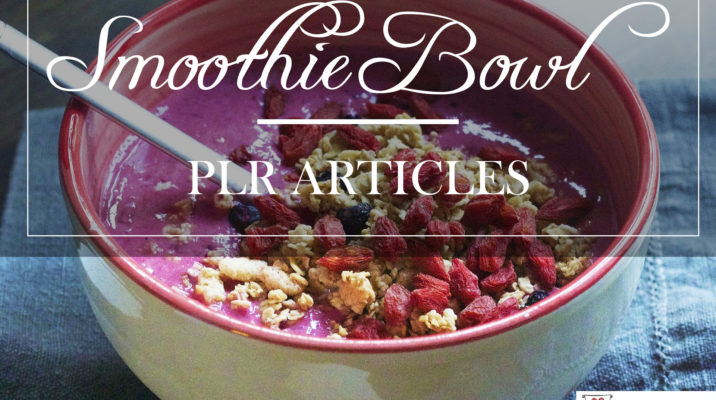 The Hidden Mystery Behind Smoothie Bowl - Get the PLR To Help You Teach Your Audience All About This HOT Topic!
Have You Heard? Smoothie Bowl PLR Is Your Best Bet To Grow Your Health Blog!
Smoothie bowls, also known as acai bowls, are a great way to have the delicious flavor of a smoothie, in a bowl with a variety of different toppings.
People are searching for so many different things when they look for smoothie bowls like recipes, breakfast recipes, ideas, easy ones to make, vegan ideas, healthy recipes, how to create them and specific ingredients like acai and chocolate.
This is a HOT topic on Pinterest.
You can also go on to the site and search smoothie bowls to get an idea.
Some people might not want a smoothie for breakfast because they are under the impression that this drink won't feel them up, but if they put it in a bowl it changes their perception. Plus they are able to add different types of ingredients on top - so this is awesome for people who want to add fruits, seeds, nuts or chia seeds.
You'll get this PLR bundle for only $17.00!
You'll be giving people the basics of smoothie bowls, including how to make them healthier, the formula to make the smoothie base, and of course what toppings to use! You also get an article on taking Instagram-worthy pictures of the acai bowls.
This PLR pack gives a lot of information about smoothie bowls and will be able to provide a newbie everything they need to get started.
With these articles you can promote:
Chia Seeds
Bowls
Mixers
Mason Jars
Nuts
Cups
Coffee Mugs
Exotic Fruit Box
Amazon is a great place to get tons of products to create hyperlinks too. They even have fruit that you can link to in your articles.
You'll get 10 high-quality PLR articles that you can use on your website to appeal to people who are interested in living a healthier lifestyle and eating a better breakfast. Plus you'll get 10 Tweets and 10 Facebook posts that complement the blog posts.
Easy Formula For Building Your Smoothie Bowl (499 words)
5 Delicious Toppings For Your Smoothie Bowl (484 words)
Start With a Thick, Fruity Smoothie For Your Bowl (489 words)
How to Increase the Health of Your Smoothie Bowl (458 words)
Why Everyone Should Be Eating More Smoothie Bowls (454 words)
Ways to Make a Dessert Smoothie Bowl (482 words)
Tips For Photographing Your Smoothie Bowl (544 words)
How to Decrease the Calories in Your Smoothie Bowl (462 words)
Make Your Bowl More Interesting With These Exotic Fruits and Toppings (499 words)
How to Make a Smoothie Bowl in a Jar (458 words)
Get PLR articles in both Text & Word Format.
People are interested in this topic and because of the topics they'll stay on your site longer to learn more about how to create smoothie bowls - whether in a bowl or a mason jar. To help them include links throughout the article that link to specific blog posts.
These articles will work if you have a health blog, a lifestyle blog or if you talk about health at all.
---
Section 2 - Royalty Free Images
Images are expensive to purchase, so I've found royalty free images that you can use with the articles or inside the report.
---
Section 3 - Keyword Research
I've come up with 200 long tail keywords all related to smoothie bowl, preparing healthy foods. You'll find some of these are what people like to call low-hanging fruit keywords while others have more searches.
But these are all high-targeted keywords that have the potential to easily get on the first page of search engines with. Search engine optimizing is important, so get a head start with this list.
You'll get this PLR bundle for only $17.00!
After you purchase this bundle – you will get to immediately download all of your content!
All PLR Products that you purchase from us are non refundable.
PLR Rights Terms:
1. Don't pass on PLR rights to anyone, so your customer's only get personal use rights.
2. Do not put our name on it.
Thank you!
GET MY DAILY PLR DEALS
(PLUS TIPS, TRICKS & TECHNIQUES TO USE PLR)
Tags: Smoothie Bowl
Done-For-You Categories, Health PLRPosted in 0 comments