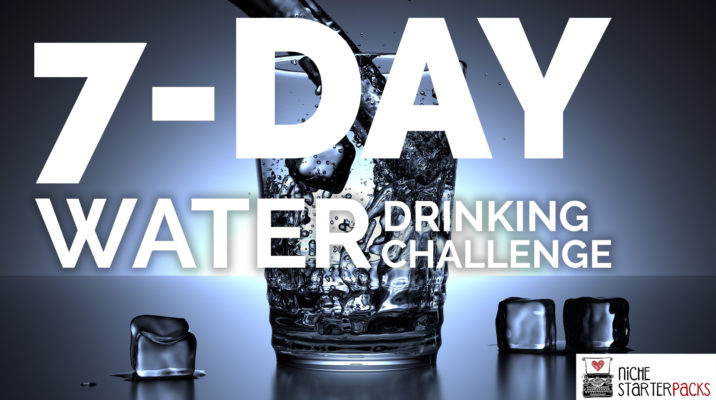 ​Create A Water Drinking Challenge You'll Be Proud Of To Put Your Name On!
Everyone Loves Challenges - Start a 7-Day Water Drinking Challenge Today!
Here Come New Ideas for Drinking More Water
Encourage your readers to drink more water, learn ways to increase their water intake, and discover ways to make it taste better. For some this can be a challenge, so you'll be giving them ideas and instructions on how to get it done through a 7 day challenge.
People really love challenges, so this would work well to motivate them to drink more water. Your body is made mostly of water and drinking enough is essential to function properly.
By having a challenge they'll be able to learn how to get more water throughout the day. This goes over everything they need to increase their water intake day-by-day. The autoresponder series includes an intro to the challenge, plus 7 more autoresponders, 1 for each day of the challenge.
This PLR pack allows your community to participate in a fun challenge that isn't going to be stressful.
You'll get this PLR bundle for only $9.95!
With these articles you can promote:
Water bottles
Health Journals
Wearable technology like the Fitbit
Bottled water
Pitcher
You'll get 8 high quality email autoresponders that you can load up into your email software like GetResponse or aWeber. Then create an opt-in box to get people to sign up.
Remember to check the terms of the affiliate programs before you put an affiliate link in emails - for Amazon you are not allowed to add them, but if you break these autoresponders up into Facebook posts for a challenge you can add it there.
8 Autoresponders Topics Include:
Intro to the Water Drinking Challenge (449 words)
Day 1: Prep For Your Water Drinking Challenge (503 words)
Day 2: Benefits of Drinking More Water (538 words)
Day 3: Calculate How Much Water You Need (506 words)
Day 4: Introduce More Water-Based Foods (443 words)
Day 5: How to Drink More Water (542 words)
Day 6: Try Fruit-Infused Water (551 words)
Day 7: Tips For Tracking Your Daily Water Intake (448 words)
Get PLR articles in both Text & Word Format.
You will also receive 2 forms that readers can print, including a Daily Water Drinking Log for each day of the challenge and the Water Drinking Challenge Notes printout.
These are available in both Word and PDF format to make them easy to edit and print.
People want to drink more water for a variety of reasons and this challenge could help them make it part of their daily life.
You could use these as mentioned above in an email autoresponder or on your Facebook page or group, but you could also package the challenge up and create a product out of it. Make videos of yourself talking or create a Powerpoint slide show with the main points.
Who Really Uses Water Drinking Challenge
A lot of people can. This can cross over a variety of niches from the young to baby boomers. You'll find that this challenge will work well on a parenting, mom, health or lifestyle blog

You'll get this PLR bundle for only $9.95!
After you purchase this bundle – you will get to immediately download all of your content!
All PLR Products that you purchase from us are non refundable.
PLR Rights Terms:
1. Don't pass on PLR rights to anyone, so your customer's only get personal use rights.
2. Do not put our name on it.
Thank you!
GET MY DAILY PLR DEALS
(PLUS TIPS, TRICKS & TECHNIQUES TO USE PLR)
Done-For-You Categories, Health PLR, PLR TipsPosted in 0 comments