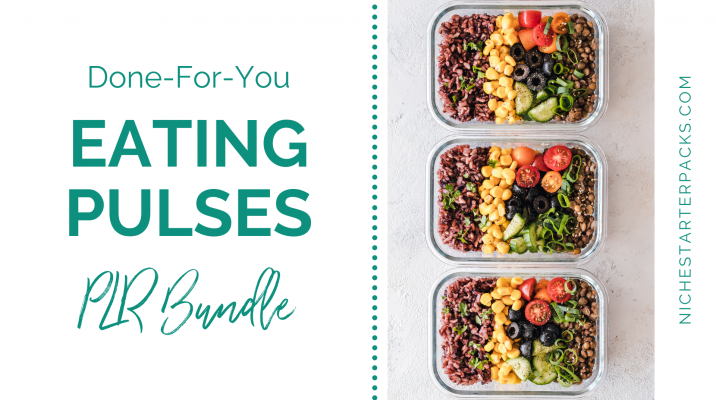 HOT PLR Content in Health Niche...Just Tweak, Brand & Use on Your Site
"People would Want To eat superfoods and live healthy - Help Them Do This By sharing eating pulses PLR Bundle!"
It's Easy If You Use This Health PLR
All of us wants to live healthy, and there are a lot of ways to do just that! Examples of that are eating superfoods, and one example of that are Pulses!
This PLR content bundle will provide your audience the information on how to get better night sleeps!
Use this high-quality PLR content as an opt-in or on your blogs...and that's only the beginning of what you can do with it.
You'll get high-quality PLR content that you can use on your website or blog to appeal to different niches such as business development, marketing, or a personal development blog.
DFY Eating Pulses PLR Bundle
Get It All For $27!
Section 1 – eBook Template
32-page eBook, 5278 words, "Eating Pulses"
Use the eBook template that is provided and put it for sale on your site to earn profit or use it on your site to get traffic. You can also take bits and pieces out of it and add it to your social media platforms.
Even though this is formatted into an eBook template that doesn't mean it has to stay that way. You can use it for whatever you'd like to.
Check out what you'll get in the eBook template...
10 sections that talk about the following:
What Are Pulses?
The Environmental Benefits of People Eating More Pulses and Beans
How to Cook Pulses Safely
The Eight Healthiest Pulses
Popular Pulses and Ways to Eat Them
Six Great Recipes with Pulses
Pulses Egg Substitute Tips
Pulses Meat Substitute Tips
Storage Tips for Pulses
Tips for Dealing with Digestive Issues When Eating Beans
The eBook template is compiled of the PLR articles below. You'll find them formatted with headings, subheadings and images. This will save you time and let's you repurpose the content quickly and easily.
So this is a great way to buy a PLR ebook that you can put to use right away.
You'll also get a Canva eCover template with this PLR pack.
This makes it much eaiser to use your brand colors, change images that you want to and add your own title to it when you use the eBook template provided.
Section 2 – 10 PLR Articles (Report Broken Up)
You're going to get 10 PLR articles for you to add value to your blog. This is a HOT topic that has tons of people interested in.
Eating Pulses Topics:


1. What Are Pulses? (498 Words)
2. The Environmental Benefits of People Eating More Pulses and Beans (484 Words)
3. How to Cook Pulses Safely (583 Words)
4. The Eight Healthiest Pulses (635 Words)
5. Popular Pulses and Ways to Eat Them (447 Words)
6. Six Great Recipes with Pulses (533 Words)
7. Pulses Egg Substitute Tips (604 Words)
8. Pulses Meat Substitute Tips (462 Words)
9. Storage Tips for Pulses (489 Words)
10. Tips for Dealing with Digestive Issues When Eating Beans (477 Words)
The PLR Articles can be schedule on your blog post, made into an email autoresponder series or shared on your social media channels.
I'm not done yet…
Section 3 – Keyword Research Service Done For You
You'll also get keyword research service done for you. I've come up with all related to the PLR articles on Eating Pulses. You'll find some of these are what people like to call low-hanging fruit keywords while others have more searches.
These are all high-targeted keywords and I've used a very popular keyword search software to get them. They all have the potential to easily get on the first page of search engines.
Search engine optimizing is important, so get a head start with this list.
BONUS: Section 4 – Royalty Free Images

Images are expensive to purchase, so I've found royalty free images that you can use with the articles or inside the report.
These came from Pixabay and you're able to use them in your products and on your blog without attributions.
As you can see there is a lot of reasons to buy the PLR content in this package. There is a wide variety of high quality PLR products including a niche plr ebook, eBook template and even keyword research service done for you.
DFY Eating Pulses Bundle
Get It All For $27!
After you purchase this bundle – you will get to immediately download all of your content!
All PLR Products that you purchase from me are non-refundable.
PLR Rights Terms:
Don't pass on PLR rights to anyone, so your customers only get personal use rights.
Do not put my name on it.
Please note – this is PLR that I have bought a special license to sell. I have added a lot of extra to the package to make it even better and more useful for you. But rest assured It is high-quality content. I provide it because I want to make sure my customers get the opportunity to purchase what they need when they need it. Make sure you don't own this already. I will always let you know if a pack is under special license or not.
Wanna Share on Pinterest? Below is a PIN Image You Can Use:
GET MY DAILY PLR DEALS
(PLUS TIPS, TRICKS & TECHNIQUES TO USE PLR)
Tags: bonus royalty free images, Business PLR, Canva template, ebook template, keyword research, plr report
Done-For-You Categories, Done-For-You Report & Blog Posts Bundle, Health PLRPosted in 0 comments