What To Blog About Ideas: 100 Self Improvement Blog Post Ideas to Inspire and Motivate Your Audience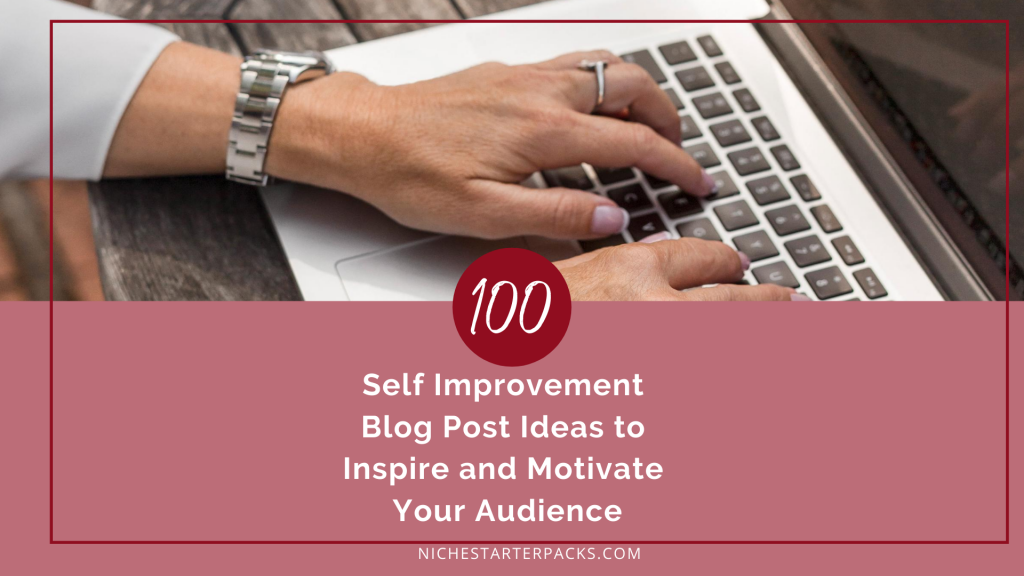 When you think about what to blog about ideas for your blog do you have a hard time coming up with anything? Right now, it's never been a better time to focus on self-improvement and personal development blogging. After the global pandemic sent the world into lockdown, people were left with a lot more time on their hands to reflect on their lives and their personal development.
While there are plenty of opportunities within the niche, finding fresh new ideas to blog about isn't always easy.
If you're looking for inspiration, here you'll find 100 self-improvement blog post ideas you can use to inspire and motivate your audience.
Stress-Related Blog Post Ideas
Below, you'll find 10 great blog post ideas on the topic of stress.
The different types of stress
Stress reduction techniques
Natural stress relief
Healthy stress vs unhealthy stress
Yoga for stress relief
Easy ways to relieve stress at home
Identifying stress triggers
How to reduce work related stress
The effects stress has on the body
Journal writing for stress relief
With each of the ideas above, try to go a little more in depth rather than just covering the basics. You want your blogs to really stand out. Making them longer and more informative is going to help you to do that.
Ways To Improve Your Blog Post Ideas
So, for each of the post suggestions above, consider also including one or more of the following:
Relevant statistics to make the blogs more authoritative
Images or videos to demonstrate examples
References to scientific research
Just try and make the blogs as detailed as possible. Stress is always going to be a popular topic, particularly during times of crisis.
Invest In Done-For-You Content To Help With Your Blog Posts
Did you know you can invest in pre-written stress-related content? With Niche Starter Packs, you can purchase stress content bundles that do all of the hard work for you. After purchasing, just tweak them a little to make them unique.
Done-For-You Stress Content Bundle
The Stress done for you pack contains 15 unique pre-written blogs. Covering everything from the types of stress to how to handle it, this incredible pack is ideal to get you started.
Worry Journaling PLR
You could also invest in the Done-for-you worry journaling blog series and marketing kit. This pack includes 5 blog posts relating to journaling to ease your worries. It also comes packed with social media posts, a 26-page report, and an awesome list of long-tail keywords for optimization.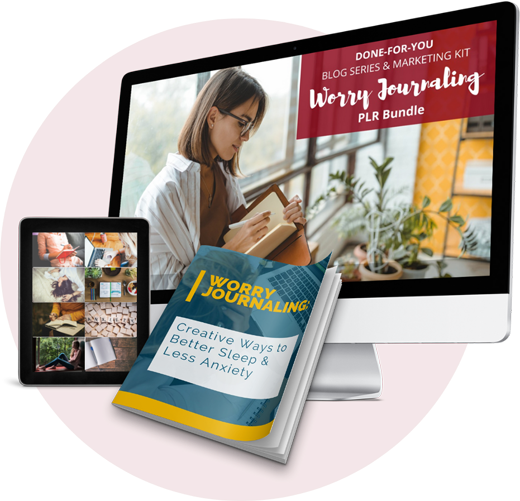 These great packs help you to get content onto your blog quickly with minimum editing required.
Self-Esteem And Confidence Blogging Ideas
As a personal development blogger, what can be more rewarding than helping people to build up their self-esteem?
Having poor self-esteem can have a devastating impact on quality of life. Sadly, a lot of people struggle with self-esteem and confidence. Use your reach to help your audience with this popular topic.
Here are some blogging ideas you can cover:
[#] ways to boost your self-esteem
What causes low self-esteem?
How to overcome shyness
Image and self-confidence
Steps to self-confidence
The characteristics of low self-esteem
How does low confidence affect the quality of life?
No confidence? Here's how to fake it until you make it
How poor self-esteem affects relationships
Is low confidence ruining your career?
Delve Into Your Topic More To Make The Blog Posts Deliver TONS of Value
There are a lot of self-esteem and confidence related posts you can create. As well as a general overview of low self-esteem and confidence, you can delve more into the topic.
You could write a general blog about the effects low self-esteem can have on your life. Then, for each effect you mention in that post, you can create a separate blog which delves deeper into them.
Or, why not invest in the Confidence done for you content pack? Containing 10 useful pre-written blogs, you'll have tons of content ready to tweak and upload. Get this awesome pack here.
Blogging Idea Ninja Tip
Creating additional resources to complement your blog posts can be highly effective. For example, you could create an e-course that teaches your audience to improve their self-esteem.
Think an e-course would be too much work? The Self-Improvement PLR Self Doubt pack makes it so much easier.
This 10-day pre-written course is almost ready to publish. Grab this awesome pack here.
Best Blog Topics For Mindfulness
Mindfulness may have been around for decades, but it's only recently started gaining mainstream attention. Known for its relaxation and anxiety-reducing benefits, this useful practice is a popular topic for wellness bloggers.
One of the best blog topics for mindfulness is journaling because of all the benefits that it brings to people who do it on a regular basis.
When journaling it makes people more mindful, you can cover a wide range of topics.
You can specifically talk about journaling or being mindful in what you do. By being mindful it brings peace and awareness to people.
Here are 10 of the best blog topic ideas for mindfulness to get you started:
What is mindfulness?
How can mindfulness ease anxiety?
Top [#] mindfulness techniques
The benefits of daily meditation
A beginner's guide to meditation
Common mindfulness myths
Taking up yoga for improved mindfulness
Best free mindfulness tools
The benefits of mindfulness
Mindfulness at work
These simple topics alone give you plenty of ideas to expand upon.
Go Over The Benefits To Help People Understand Why Mindfulness Is Important For Self-Improvement
For example, after covering the benefits of mindfulness, you can then write a blog post for each benefit you cover. So, if one benefit is that it can improve sleep, you could then write a blog exclusively about sleep and mindfulness. Or, you could find done for you content to make it easier. My Stress Relief and Better Sleep bundle contains some great posts about meditation and sleep.
You could even create a blog series surrounding different mindfulness techniques. These types of posts tend to keep the audience coming back for more.
Journaling Blog Topics Ideas
A hugely popular and evergreen blog topic to cover in the wellness field is journaling. Known to be a very effective way of boosting mental health and improving quality of life, journaling comes in a lot of different forms. This gives you a lot of potential topics to cover.
Here's 10 unique blog topics ideas you could cover with this great topic:
The different types of journaling
Benefits of journaling
Combatting anxiety through journaling
[#] Journaling tips
Common journaling mistakes to avoid
Journal prompt ideas
How to reinvent yourself through journaling
Proven journal techniques for self-discovery
Online Vs physical journals
Journaling and depression
Improve The Blog Topics Ideas By Sharing Tools With Your Audience
As you can see, you can cover the different types of journaling, the benefits and provide useful journal prompts. Alongside these awesome post ideas, you could also go into the tools that could help.
If you invest in the Done for You Self Discovery Through Journaling Blog Series and Marketing Kit, you'll automatically receive top 5 lists and product reviews, alongside pre-written blog posts. This gives you a huge range of content ready to be used. It also contains everything you'll need to market your new content. Click here to take advantage of this great value pack.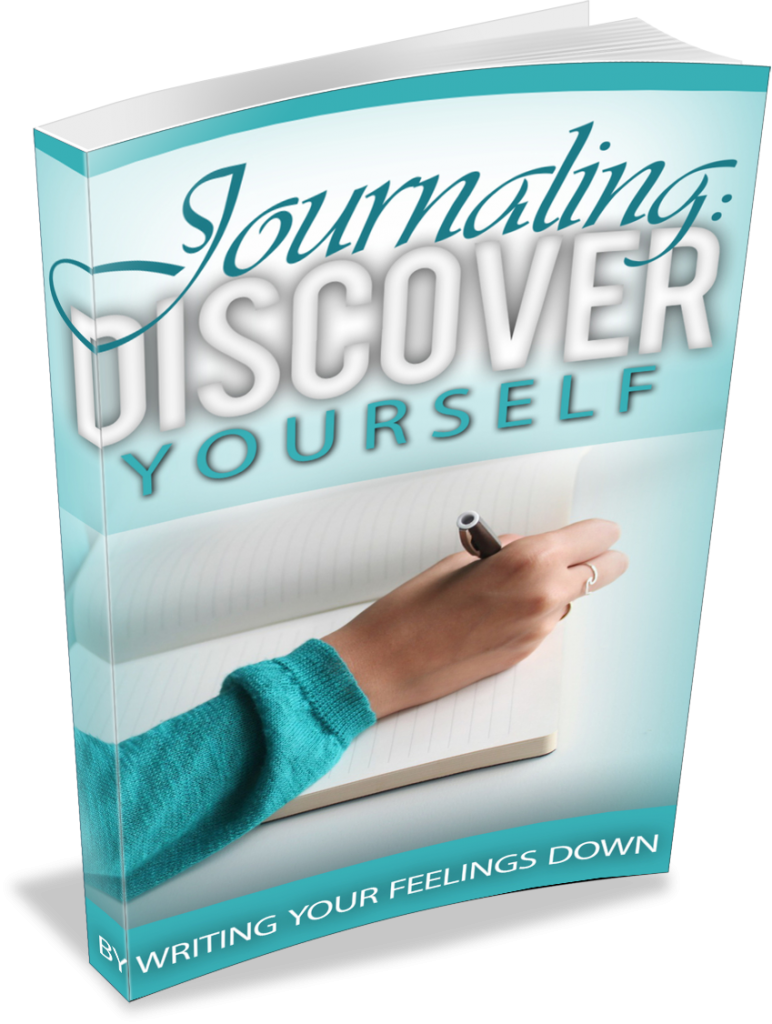 Motivation Blog Post Ideas
In order to grow and eliminate bad habits, a certain level of motivation is required. The trouble is, maintaining motivation can be really difficult.
Help your audience to develop additional motivation and reach their goals with these 10 awesome ideas…
What is motivation?
Why motivation matters
The science behind motivation
How to maintain motivation
[#] motivation tips
Common motivation mistakes
Can diet influence motivation?
Why motivation is key to self-improvement
Role models and motivation
The link between motivation and rewards
You can make the posts stand out by adding images, infographics and statistics. It also gives you the opportunity to create worksheets and challenges. Providing actionable content to help boost motivation will prove extremely effective.
Need help getting initial content on your blog? Check out this ready-made motivation content bundle.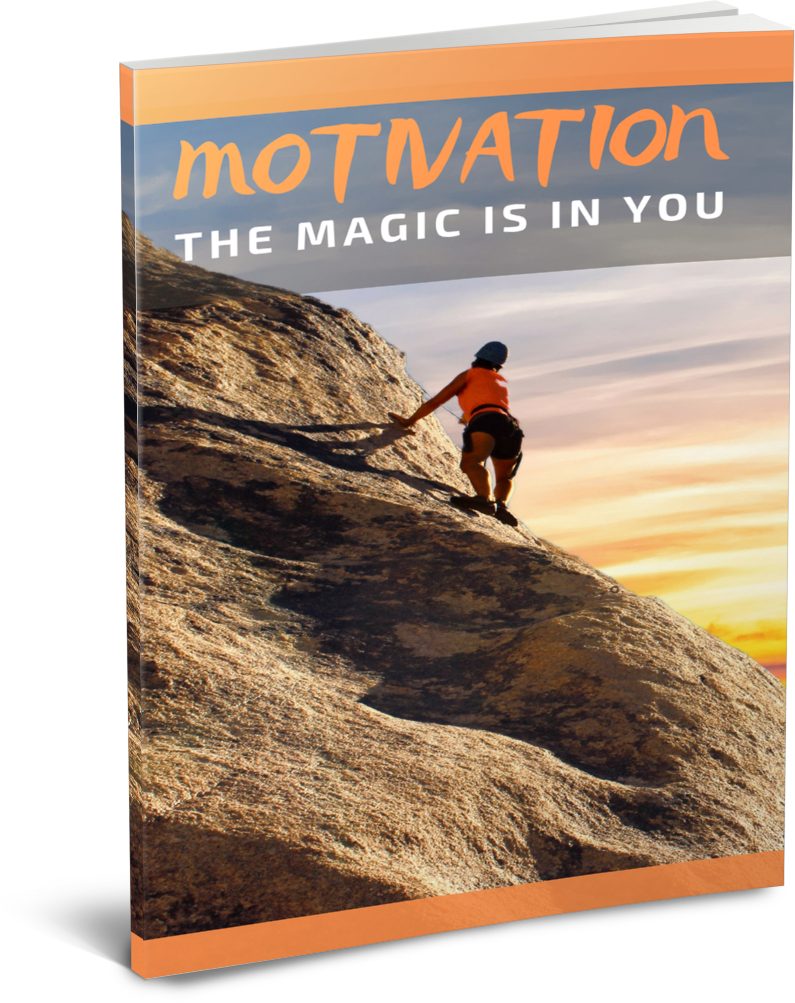 It comes complete with 5 useful blog posts, a report, royalty-free images and keywords.
Goal Setting Blog Post Ideas
If you're focusing on helping your audience live their best life, goal setting is a great topic to cover. In order to achieve anything in life, goals are important. Without them, it's difficult to stay focused and motivated.
So, what types of goal setting blogs can you create? Here's 10 great ideas you can work with…
What is goal setting?
What benefits do goals provide?
How to set effective goals
The different types of goals you can create
[#] goals to focus on
Why small goals are more effective
[#] tips for setting goals
Avoid these common goal-setting mistakes
Achieve financial freedom with goal setting
Can goals make you happier?
The key is to explain how goals can help in every aspect of life.
Enhance Your Blog Posts By Adding Challenges
To enhance your posts, consider adding challenges your audience can use to set goals in their lives. Niche Starter Packs has a ready-made one you can tweak and use directly or use for inspiration. Get this awesome pre-written challenge here.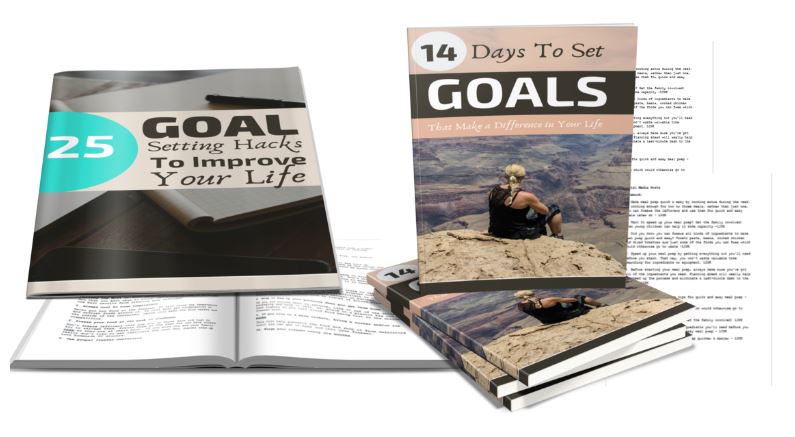 You can have goals for literally ANYTHING. This means there are literally hundreds of blog topic ideas you could use.
Time Management Blog Post Ideas
When people are trying to make changes to their lives, a common challenge they come up against is time. You'll often hear the phrase "I would do this, but I just don't have time".
The truth is each of us has the same number of hours in a day.
So, how do some people get so much more done than others? The key is time management.
You can produce a lot of different time management related posts. Just 10 ideas include:
How to stop procrastinating
Limiting distractions to free up time
[#] time management strategies you can utilize
Things you can do right now to make tomorrow easier
Time management mistakes you'll want to avoid
How to do lists can aid with time management
Why multi-tasking crushes your time management skills
[#] tasks that can free up time in your day
How to build momentum to get more done
Organization tips to free up time
These ideas should get you started.
You could also cover things like:
Time management tools
Online Vs offline time management tracking
Time management tips
Dive Deep Into Your Topic
There is the opportunity to go more in depth with the topic too.
For example, becoming more organized in the home can help free up time that would otherwise be spent on chores.
Use the fab done for you organization pack to help dive into this more specific topic. You'll receive a pack of 10 articles covering everything to do with organizing your life.
Self-Discipline Blog Post Ideas
Another popular topic in the self-improvement niche is self-discipline. When trying to make changes in life, self-discipline is often required. This is especially true when it comes to fixing bad habits.
In the self-discipline niche, 10 ideas you could cover include:
What is meant by self-discipline?
How self-discipline can help to eliminate bad habits
Examples of good self-discipline
The dangers of too much self-discipline
Top tips for avoiding temptation
Effective ways to build self-discipline
[#] mistakes which could be costing you your self-discipline
The benefits of self-discipline
The best self-discipline tips you can follow
The self-discipline habits of successful people
Focus on a Niche To Stand Out
These are some very general ideas you can work with. However, if you want them to stand out, think about niching down the topics even further.
So, for example, with the benefits of self-discipline, you can write separate blog posts for the health, social and work benefits it provides.
Or…
You could make it easier for yourself and use done for you content to get started. This self-discipline content pack contains articles, an eBook template, social media posts and a keyword research service.
It's incredibly hot right now so grab your copy today.
Positive Thinking Blog Post Ideas
Let's face it, it's not always easy to stay positive. However, for those who constantly suffer with negative thinking, it can really hold them back in life.
The good news is that it is possible to switch from a negative to a positive mindset. Why not use your blog to help your audience develop a more positive outlook?
Check out these 10 great positive thinking topic ideas…
Why positive thinking is important
How to recognize negative thinking
Understanding your triggers
How gratitude can help with positive thinking
Journaling for positivity
How to eliminate mental barriers
The benefits of a more positive mindset
How to master your mindset
[#] tips for developing a positive outlook
Common barriers to positive thinking
Provide Actionable Tips To Help Your Audience To Take Action
These ideas alone will give you plenty of content to work on. Like other categories on the list, with this one you can also create challenges or actionable tips for your audience to follow.
You can also delve more into the elements that contribute towards a positive mindset such as healthy eating and social connections.
My Happiness done for you pack contains a total of 10 articles you'll find useful. They cover everything from the link between food and happiness and mantras that can boost happiness.
The happier you are, the more positive you become. So, this would be a great sub-topic to cover and with this awesome pack the hard work is done for you.
Significantly Impact Your Audience With Self-Care Blog Post Ideas
Last but certainly not least, self-care is a fab topic to cover in the personal development niche.
Teaching your audience to prioritize self-care is a great topic to focus on. So, what type of topics could you cover here?
Check out these 10 great ideas…
What is self-care?
[#] examples of self-care
The surprising health benefits of self-care
The different types of self-care
How to start self-care
[#] tips to fit self-care into your routine
The benefits of self-care
What is and what isn't self-care?
Essential self-care tips
Fitting self-care into a busy lifestyle
Self-Care Is Essential – Teach Your Audience That It is Okay & Needed (Not Selfish!)
In order to live a happier, more fulfilled life, self-care is essential. Unfortunately, many people sacrifice self-care in order to take care of others. This could have a significantly negative impact on their life.
These ideas should be enough to get some quality content onto your blog. Or, save time with my Self-care for a healthy mind, body and soul pack.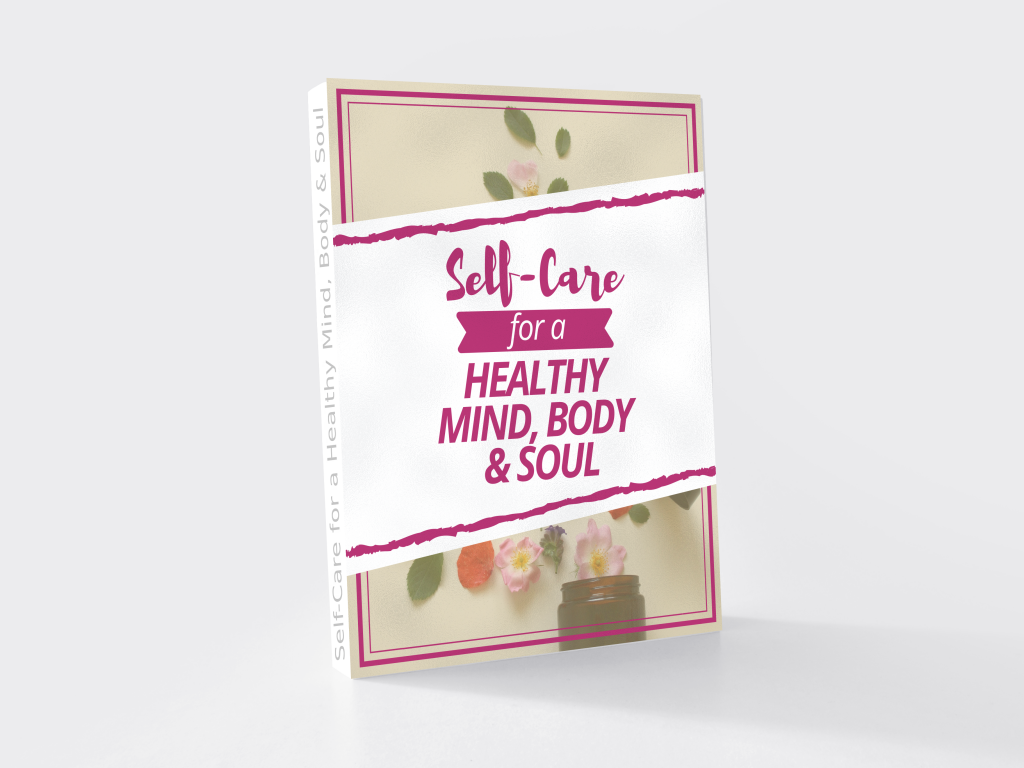 This includes 5 ready-made articles you can use almost instantly on your blog.
The biggest challenge as a blogger is coming up with constant new ideas. If you've been struggling to get started or create interesting new blog topics, the ideas above should really help.
~April
P.S. Don't forget you can take the hard work out of blog creation with done for you content. You'll find a huge choice of content packs on the Niche Starter Packs store. Check them out now and see how affordable it can be to get pre-written content uploaded almost instantly.
Want to save this for later? Here is a PIN for you: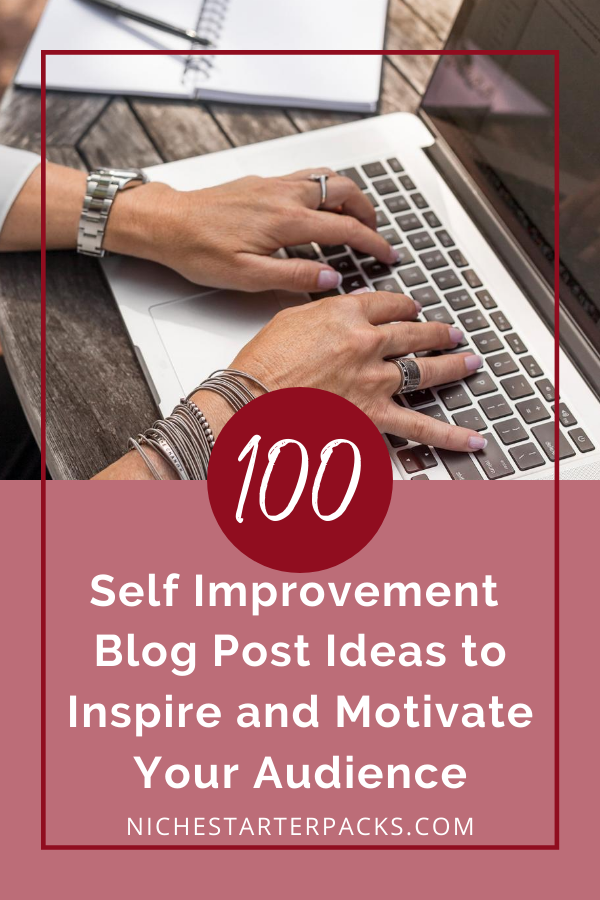 GET MY DAILY PLR DEALS
(PLUS TIPS, TRICKS & TECHNIQUES TO USE PLR)